Overview of the things I accomplished today:
– wedding dress fitting #2
– caught up on much-needed sleep
– got carrot caught in my teeth for the entire duration of the 6+ hour bus ride #TMI #Ihatemyretainer
That's it. I was super unproductive AND late. (I arrived at my 11:45am bus at exactly 11:45- not an hour before like you are supposed to. Needless to say the bus was already full and since there were <10 of us, Greyhound instructed us all to just catch the next bus.)
The morning was enjoyable though. I woke up at 7:30am. My parents drove down to pick up the cats for the week. Dexter, Jim & Katie's cat, is also rooming at Mom & Dad's for the weekend so we can expect some fantastic videos to come out of that.
In other news… my wedding dress is so pretty!! There is a long train now, too. We have moved past the green practice dress and into muslin, which my mom has been writing on with sharpie.
[PHOTO CENSORED]
We talked about lace, other embellishments, embroidery, this other thing I can't remember the name of and, of course, sleeves. I have become quite obsessed with the sleeves. I mean, go big or go home, right? We are definitely taking sleeves to the next level.
Madison took rides on the train of the dress each time I walked across the room. Milo was disinterested at first but stepped in once he realized we were snapping some photos.
[PHOTO CENSORED]
After my mom finished adjusting the dress, we had some breakfast, I packaged up the (still warm) banana bread that I made this morning per Gavin's request (we had atleast a dozen bananas frozen and ready to go) and then my parent offered to give me a ride to Port Authority.
The banana bread was actually so ambitious that it expanded right out of the dish and created a miniature banana bread just below. Nice going, banana bread!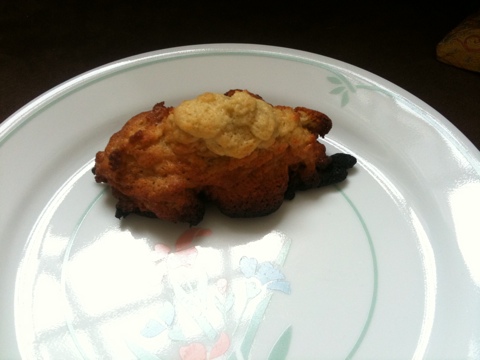 The bus ride was long. I didn't really plan ahead for this one in terms of food, since the original bus time was spaced evenly between lunch and dinner. So why would I need to eat on the bus? Since I took a later bus, and my chocolate cocoa krispies breakfast failed to sustain me for as long as I'd hoped, I quickly ran through what I had in my bag that was edible: salted seaweed, banana bread (I refused to touch this, as it is profoundly more polite to show up at somebody's house with a full banana bread as opposed to a half-eaten one) Orbit (not Trident) peppermint gum and a huge bag of carrots. I was not about to leave the front of the line for anything- not food, not bathroom or even Jude Law could make be budge. I was getting on this next bus. So, with that limited set of options, I first went through the seaweed. Then, once we got rolling, I ate a LOT of carrots.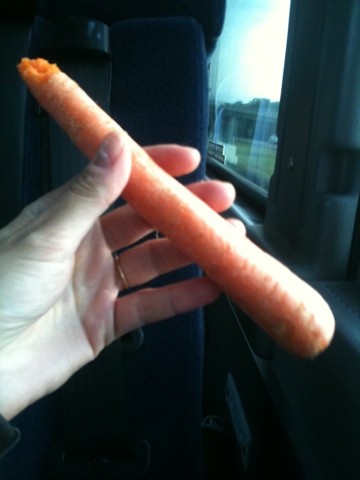 When we stopped in Scranton, PA, I sniped a Healthy Valley (only non-candy item) from the snack machine and hopped back onto the bus. It was a welcome break from all those carrots I'd practically inhaled earlier. I ate half.
Finally, I made it to upstate NY (Syracuse, to be exact.) Last leg of the journey and my stomach was rumbling. The choice was between Subway and Subway. So that's exactly what I got. I ordered the 'kid's mini' which was the perfect-size sandwich and it came with a juice box or milk, apples or yogurt or chips and a cookie (because they had run out of toys.) I ate the entire sandwich and had a bite of the cookie. The juice box and apple slices could wait till later.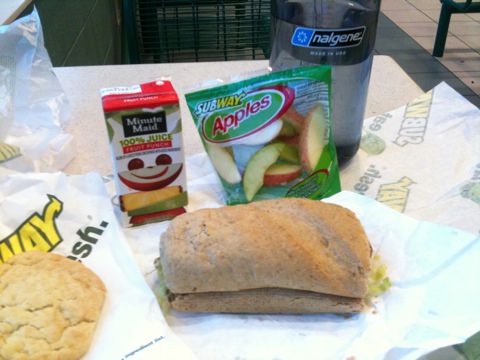 One hour and forty-five minutes to go. I am now in a different bus with no working interior lights, that smells like toilet bowl cleaner and is headed right through the center of a thunder and lightening storm. I have also acquired a new set of numbers in my phone: Gavin's parents (house and both mobile phones.)
I absolutely cannot wait to be there already. This thunderstorm is scary to watch through the big windows and unfortunately they are not serving cocktails on this bus.
Related posts: