It was the Gavin baby pictures!! So exciting. We looked through them as soon as I got back. I'll have to scan those later. But first, there are more daylight-required errands to scratch off the list.
I brought a huge bag of clothes to Salvation Army and returned a box of envelopes to Staples. (Those were the ones I was going to use for our invitations before I found the really cool blue ones at a different store.) After that I picked up my bib from New York Road Runner's club for tomorrow's Portugal Run. I made sure to get this one the day before instead of the day of because the Portugal race has good shirts and I really wanted a size small.
Then there were more stops along the way for other odds and ends. By the time I got home, my legs were done. Gavin was out shooting (preparing backgrounds for a shoot on Monday an Tuesday.) He asked me to come back out again but I couldn't do it. My calves needed ice. I literally could not walk any more because they were too tired. (I later found out that this was because of the Vibrams and how they are known to strengthen the muscles you wouldn't typically use when running.) I had run six miles that morning and walked 7-8 additional miles doing errands.
For dinner, I heated up some rice and seaweed with siraccha sauce (one of my favorite "comfort foods") and got set up in the chair with a pillow for my legs and the laptop so that I could continue with the wedding prep online and through email. The next day is Father's Day and we're having another barbecue at my parent's house so I wanted to get done as much as possible before we went up to visit the next morning.
One more thing:
I got my hair done (finally!) I went to Josh, who I'd first met more than four years ago through one of my friends in grad school.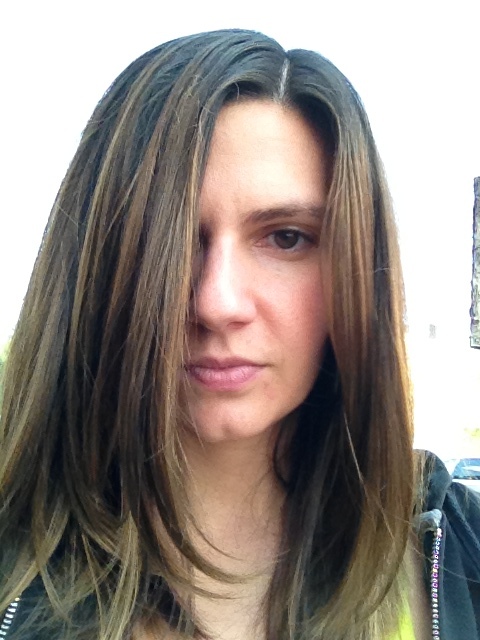 Sure, there are plenty of people in Manhattan I could've gone to but I wanted to go to someone I trust (especially since I'm just a little overwhelmed right now.) So I schlepped out to Brooklyn for a cut and color with my favorite hairdresser. I am sooooo excited about my hair. I hadn't had it done in over six months and it was definitely starting to show.
Related posts: