I tried to take it easy this Saturday and – believe it or not -I actually listened to my dad's advice. I chose to not run in the 10k, nor did I meet with my running group for the scheduled 11-mile run. What I did instead was sleep in on both days (when I say, "sleep in" I mean until like 10:30 or 11am. Like whoa.)
By Saturday, I was feeling much better so I went out to look for a cake knife and some toasting glasses for the wedding. Then I met up with Kris and Amy for some summer clothes shopping on Broadway (between Houston and Canal.)
They met me at Crate & Barrel where I used a gift certificate from Gavin's cousin, Jeremy, & Jeremy's wife, Stephanie, to purchase our champagne toasting glasses. (While I did consider using just any old glasses to toast- because a glass is a glass, right? – the more I thought about it, the more I thought it would be cute to have glasses from our wedding to toast very special occasions in our lives going forward.) Added bonus: it'll sort of be like Jeremy and Stephanie and Haileigh are there with us at the wedding since the glasses are "technically" from them after all. Pretty!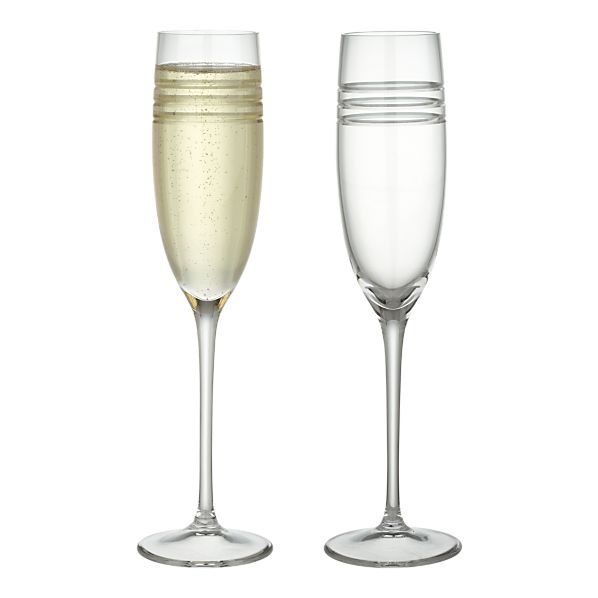 Back to the Broadway Avenue shopping spree. We began at Houston and walked down south, stopping at a bunch of stores: Topshop, H&M, Madewell, Zara, Steve Madden, Aritzia, Lululemon, Urban Outfitters and a few others.
It was a very successful shopping venture; we all made very good purchases. I got some summer shirts for weekends and also some for work.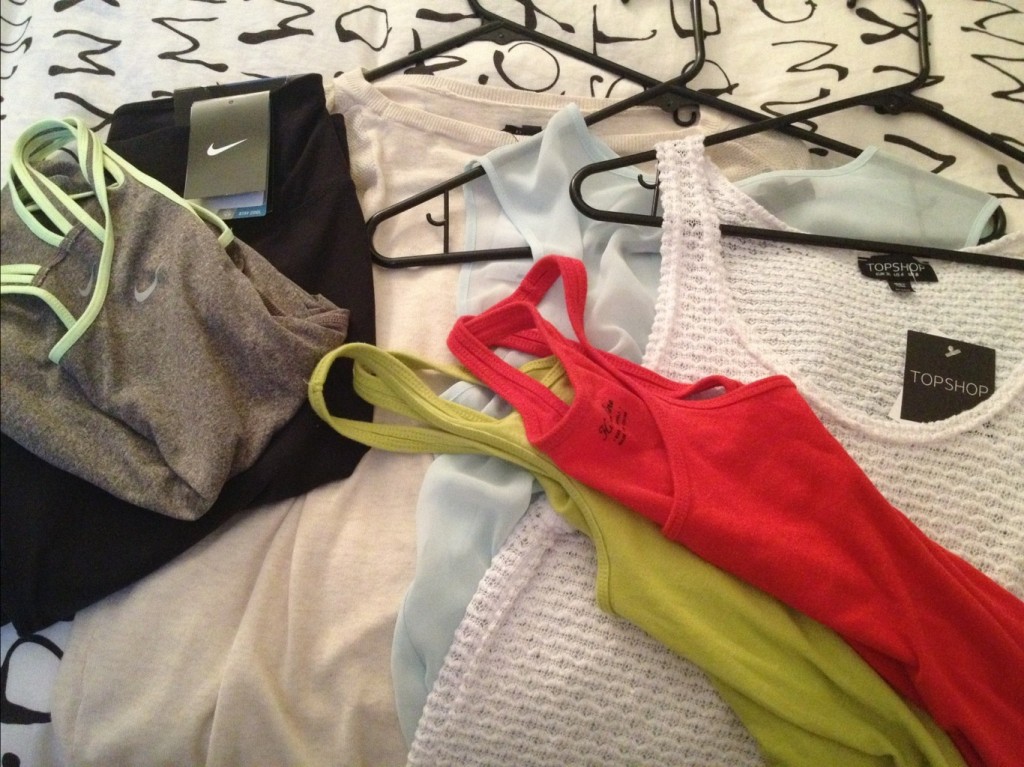 In other exiting weekend news, Gavin and I had Kris and Amy over for tacos.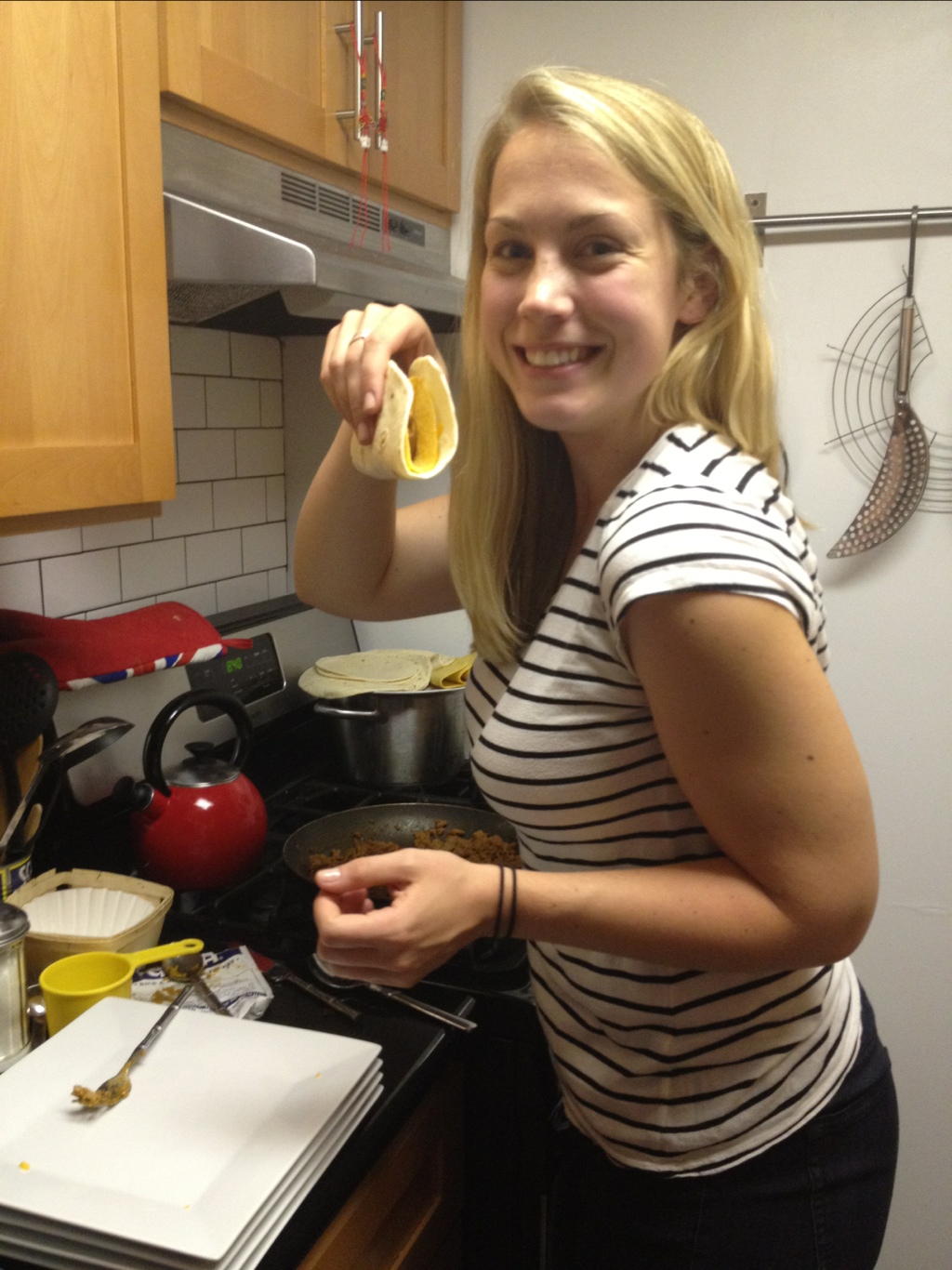 Amy showed us how to make a double layer taco with extra cheese.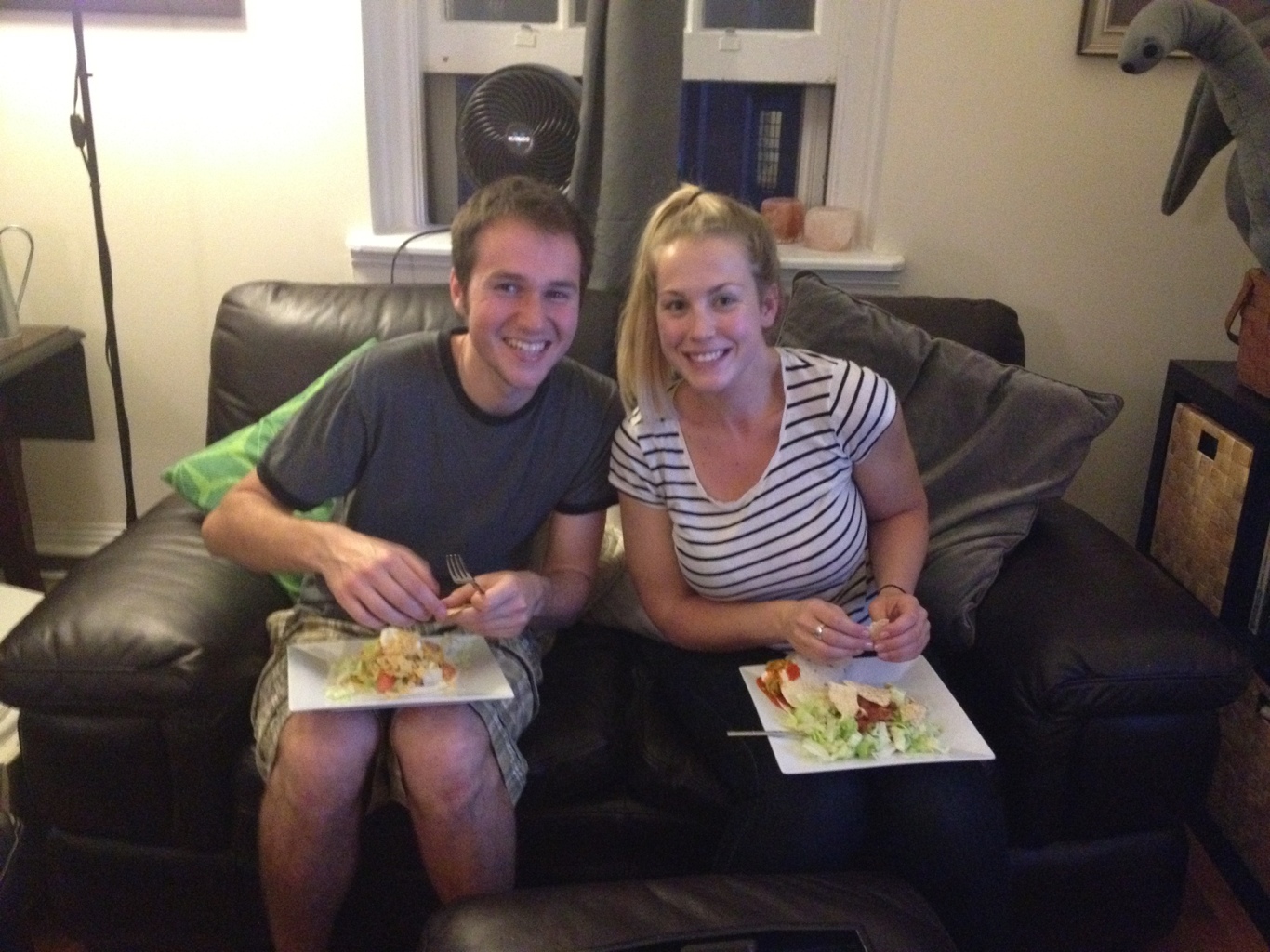 Gavin took care of the meat and I did the chopping and made a huge bowl of guacamole that- between the four of us- was gone by the time they left.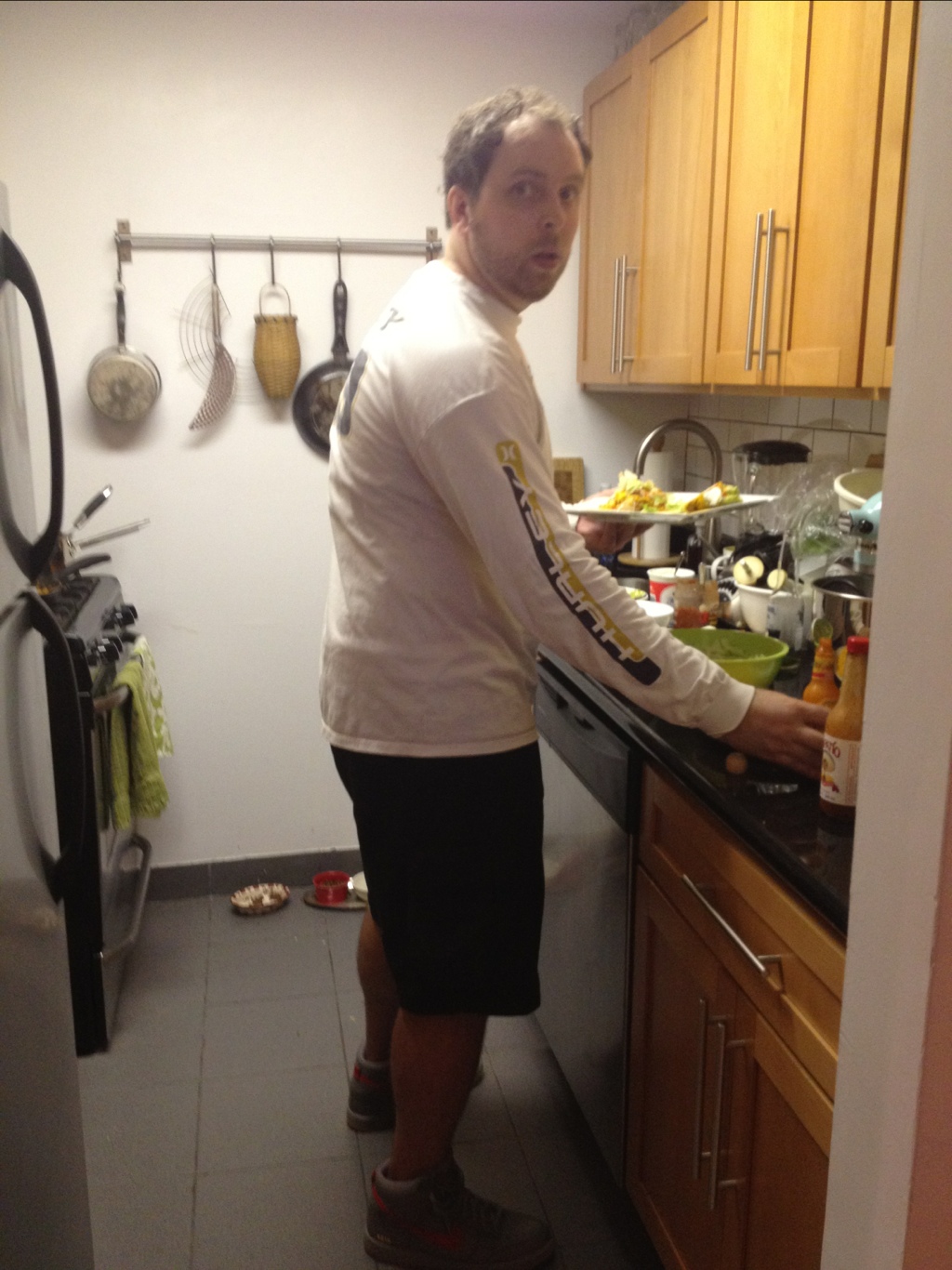 While I didn't end up doing any exercise on Saturday (aside from a ton of walking), I did get about 4 miles in in Sunday with Gavin. We ran from our apartment to the 57th street Nike Town. I got a pair of running capris that I'm going to be using for yoga since my others are made of cotton and too hot for above seventy degree weather. I also purchased a cute top that Gavin picked out for me (see above photo.) Gavin wants to go back for a second run/shop trip to Nike Town in this week.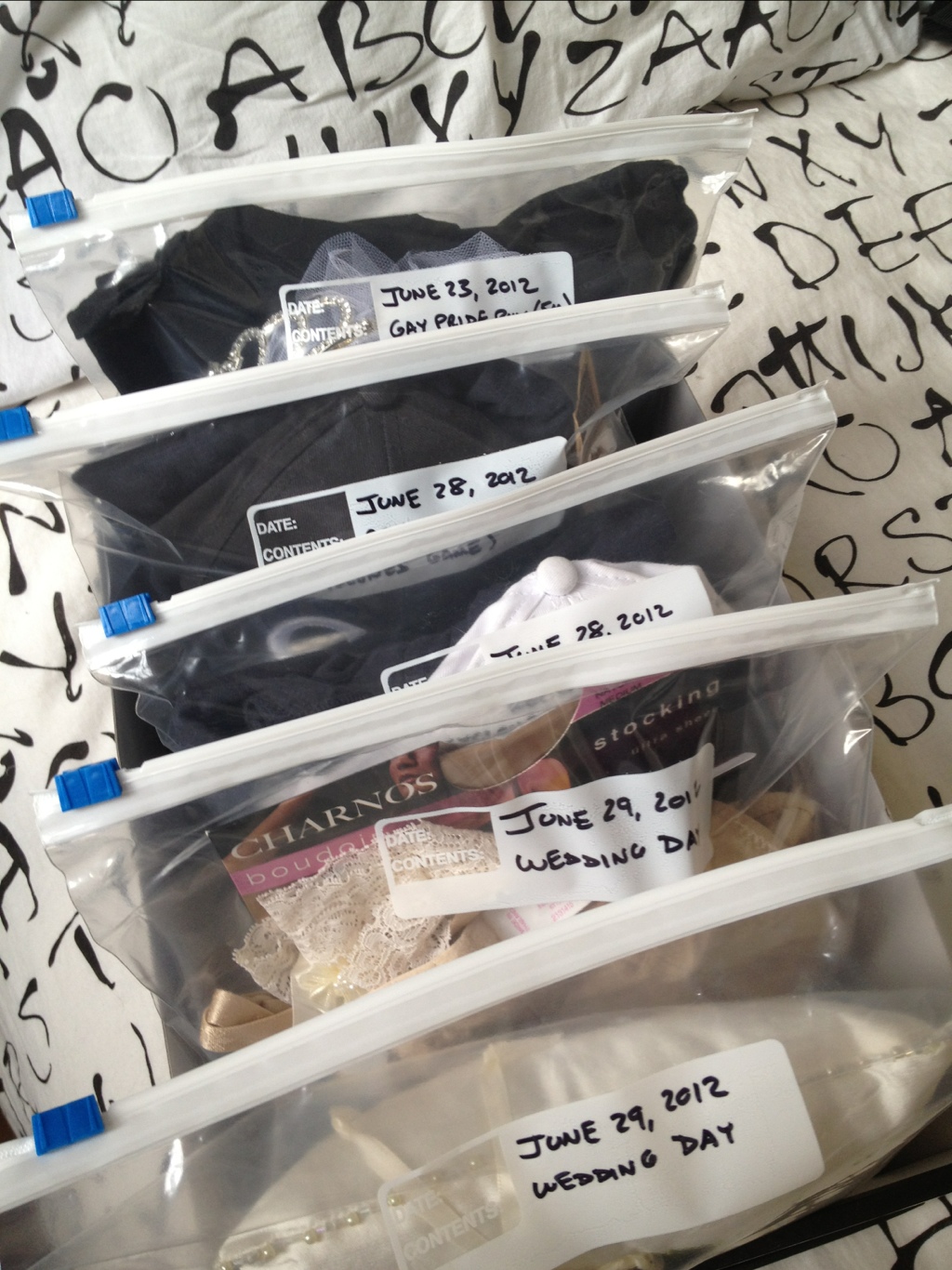 I had a bit of a borderline OCD moment and (maybe) put all of our different wedding paraphernalia into individually labeled freezer bags so that each day of wedding activities and its corresponding accessories were neatly organized and appropriately compartmentalized. Don't judge. People have been locked up for much worse offenses than labeling some freezer bags with sharpie.
And… now we will just have to grab one bag and not have to think too much about which accessories go with which days. One might think its easy to differentiate between the rainbow-colored knee-high socks for the Gay Pride Run on Saturday, June 23rd (Wedding activity #1) and the nude stockings for the wedding dress (Wedding activity #4) but who knows where my head will be at that week. Just trying to set us up for success as best I can. (The sleepovers at our apartment begin as early as June 22rd!)
Related posts: