April 7, 2012
More fittings, this time the train of the dress has scalloped lace sewn along the edges. So beautiful. It had really come a long way since last time I tried it on. We spent a long time discussing the top portion though. Something wasn't right and so we worked on it further. I also tried on the veil. It was becoming very real.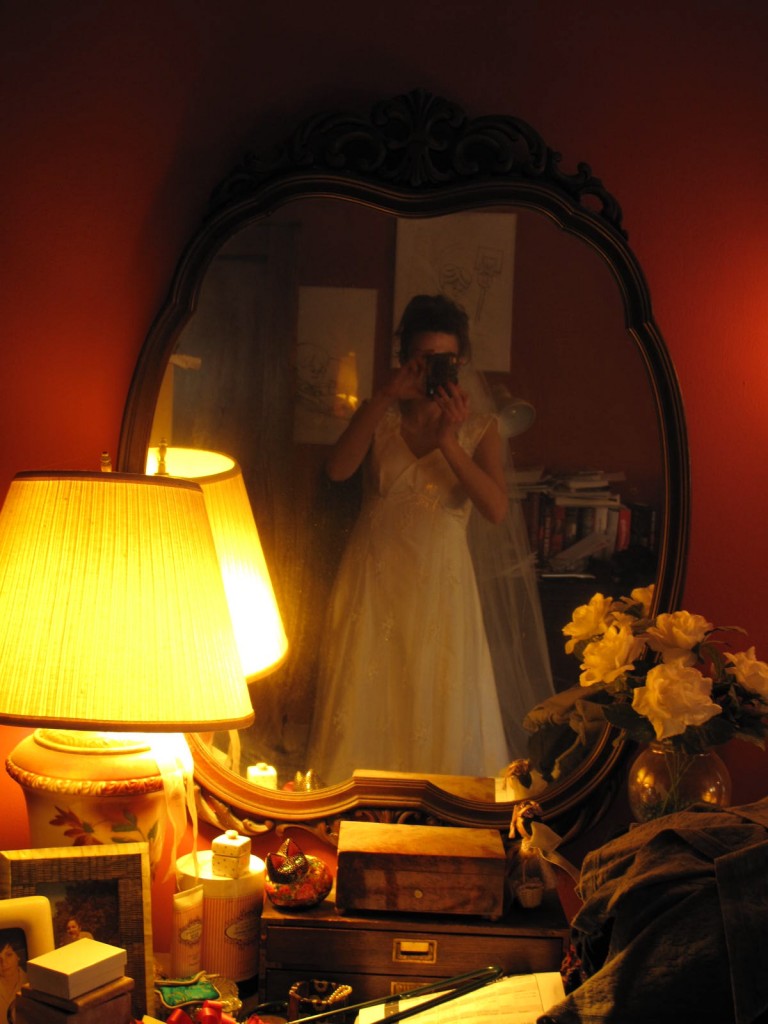 March 31, 2012
We had another fitting and tried out several variations on the back (how deep it would go, how it integrated with the rest of the dress, etc.) We talked about sleeves and also worked out some ideas for jewelry.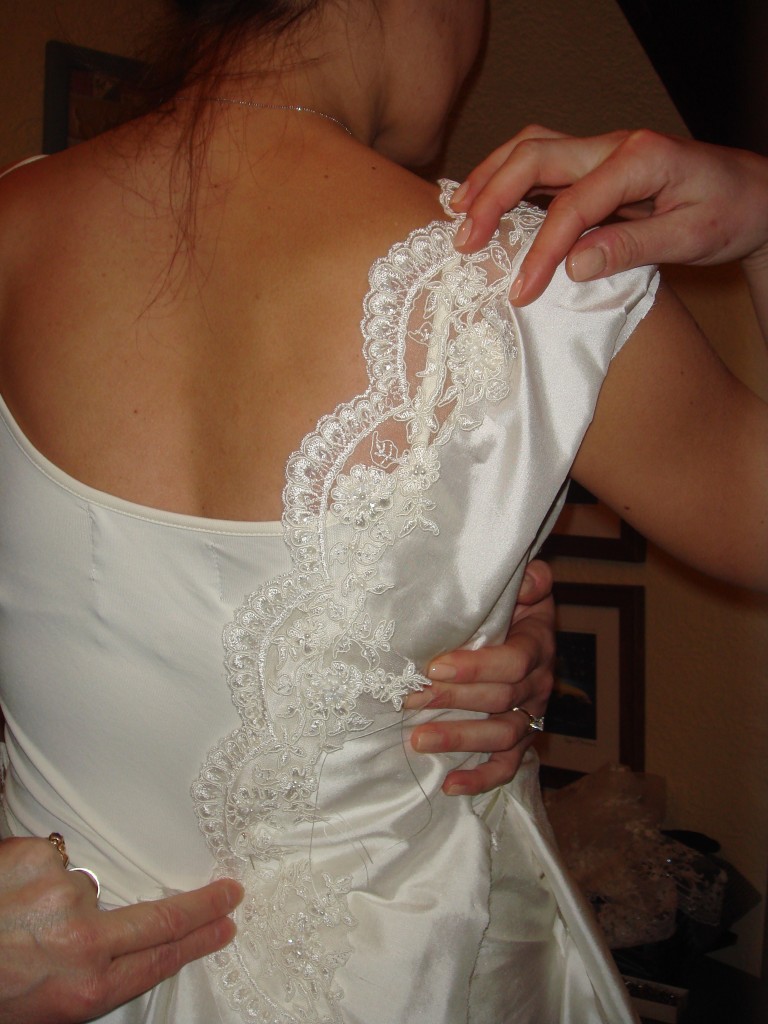 Although the fancy necklaces were nice, I went for the more simple but sparkly one. It was a single diamond heart (probably cubic zirconia, otherwise I doubt my mom would've let me borrow it) on a simple chain. Done. I had earrings to match that Momma had given me several Christmases ago. Something old. Something borrowed. Two down; two to go.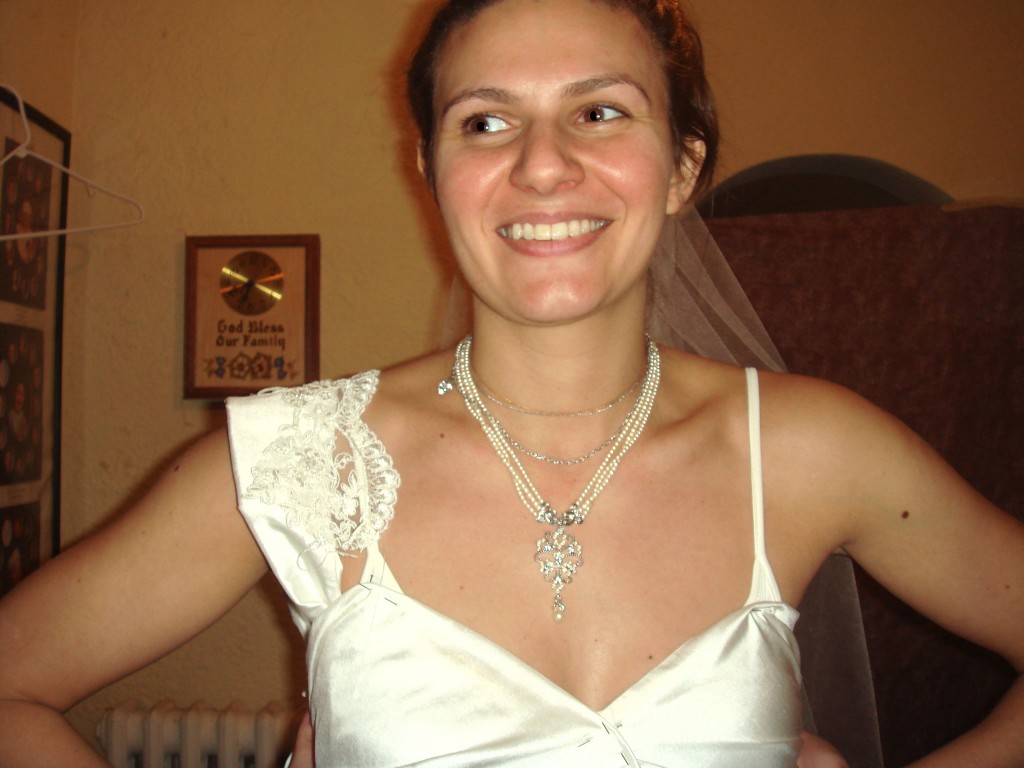 February 26, 2012
The top of the dress took the longest. We tried so many different variations. Now that the Alexander McQueen sleeves had been killed by this point (thank Baby Jesus), we were working with a more manageable version. Still, I don't know how many of permutations of this sleeve were made during the process of creating this dress.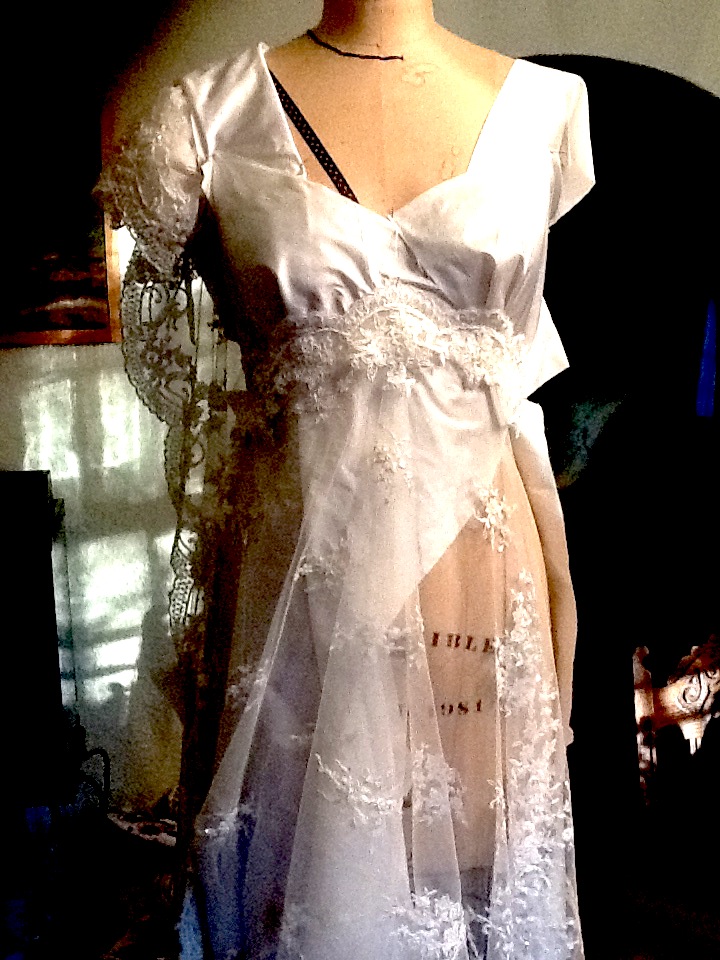 February 22, 2012
Mom sent me some sketches for the sleeves.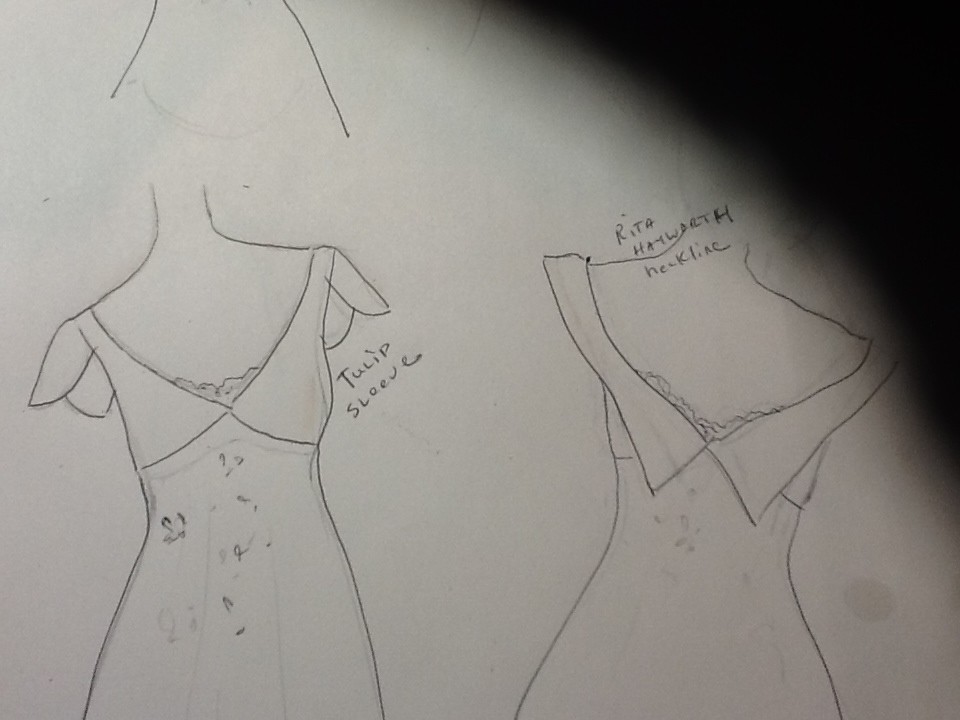 February 11, 2012
Almost a year after Gavin asked me to marry him, I tried on my dress (the bottom portion) as it was finally together and I actually cried a little. It was so beautiful and I imagined walking down the aisle and I got choked up. Then I just started talking a ton of photos of my halfway-together wedding gown.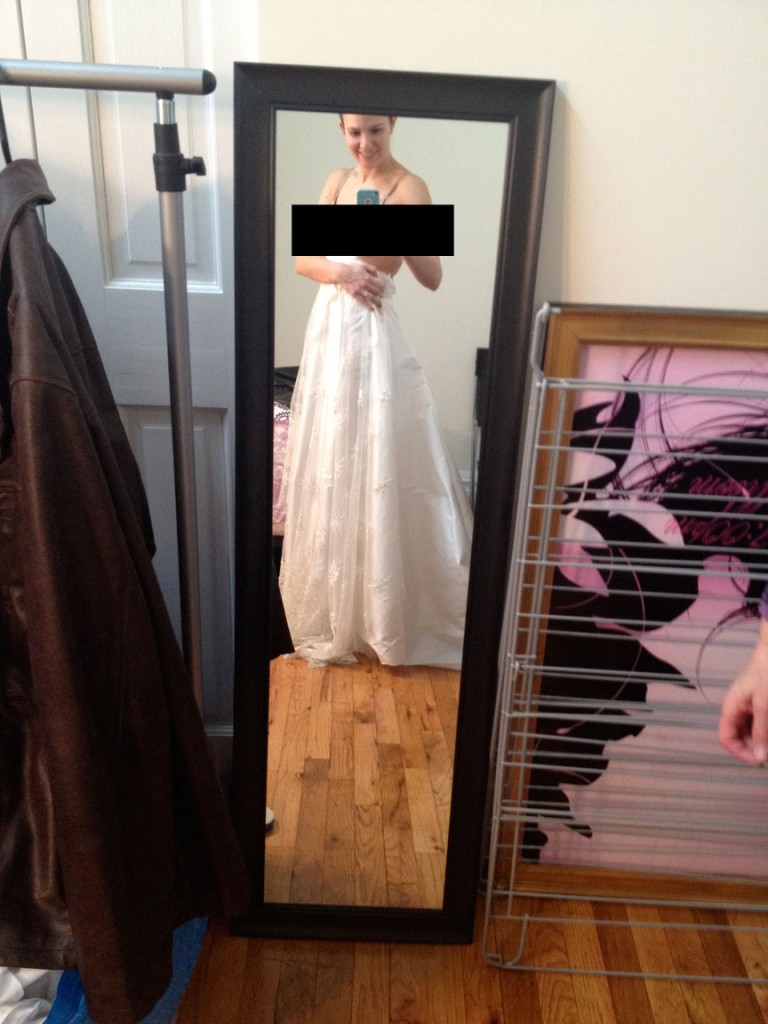 And the train. It wasn't originally going to have one but then my mom added it in as an experiment and neither one of us wanted to let it go.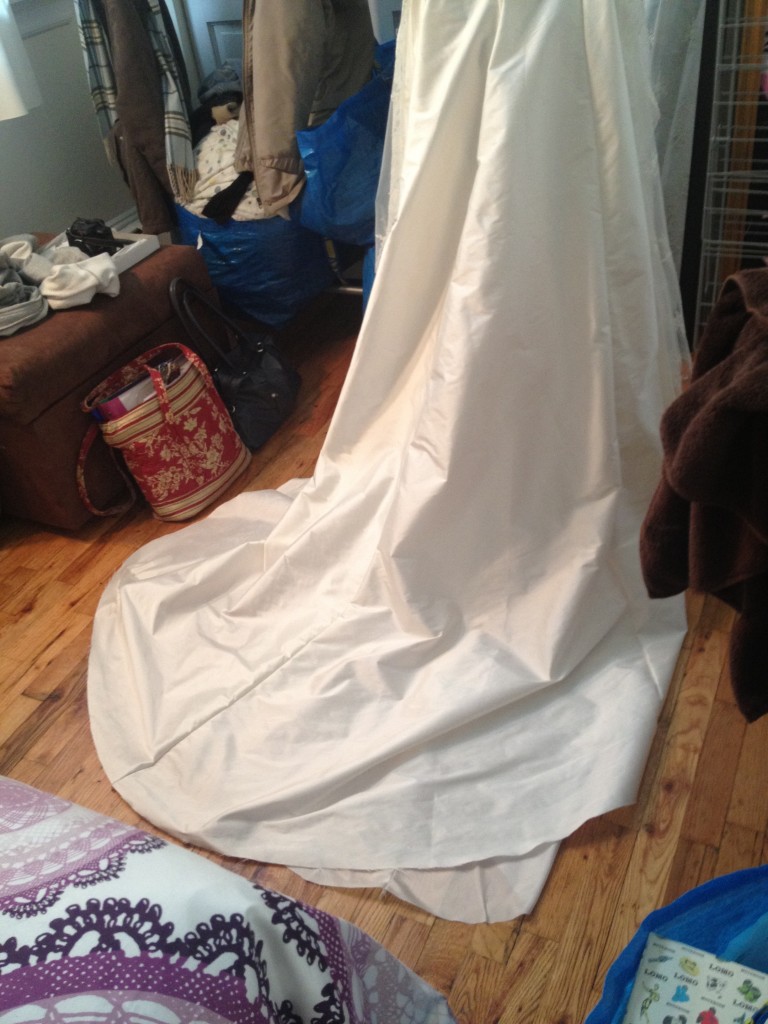 February 4, 2012 (Update on the Wedding Dress)
The bottom of the dress began taking shape. My mom cut into the real silk this time. It was a pretty big deal. My mom was really nervous that I wouldn't like it because I'm such a perfectionist. I discovered that my mom is also a perfectionist so now I know where that came from.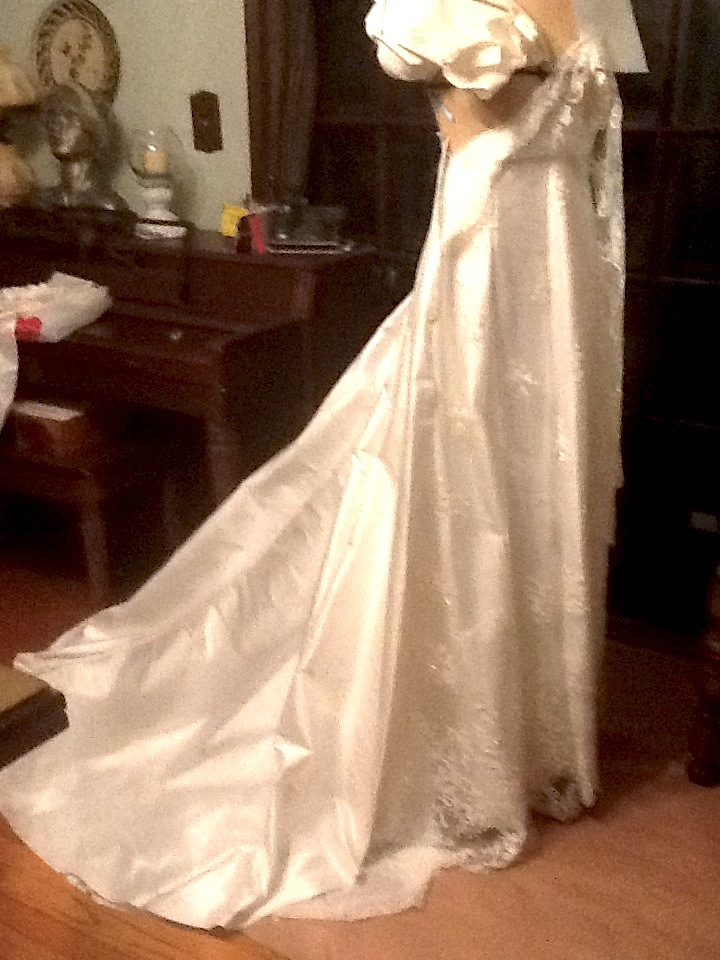 August 28, 2011
We went back to the fabric district; this time for lace. (Lunch & Lace w/Mom)
July 29, 2011
My mom sent me MMS and email updates throughout the year, often whenever she did any major changes to the overall structure. (Helloooo Bridal Gown!!)
July 9, 2011
I gave her my measurements over SMS. I followed a tutorial online. Fingers crossed that the numbers were right. She began with a muslin fabric version of the dress though, using a basic dress pattern to start so it wasn't taking a huge risk with the real silk. (Waist-Hip Ratio and Useless Celebrity Trivia)
June 29, 2011
I met my mom during lunch one day in the fabric district and we purchased the fabric for the dress- exactly one year before the wedding. (Six yards of silk and some tulle to go please. and Wedding Dress. Check.)
July 5, 2011
I made some more sketches (so did my mom) fter going to see the Alexander McQueen show, Savage Beauty at the Metropolitan Museum of Art. And so began the obsession with the sleeves.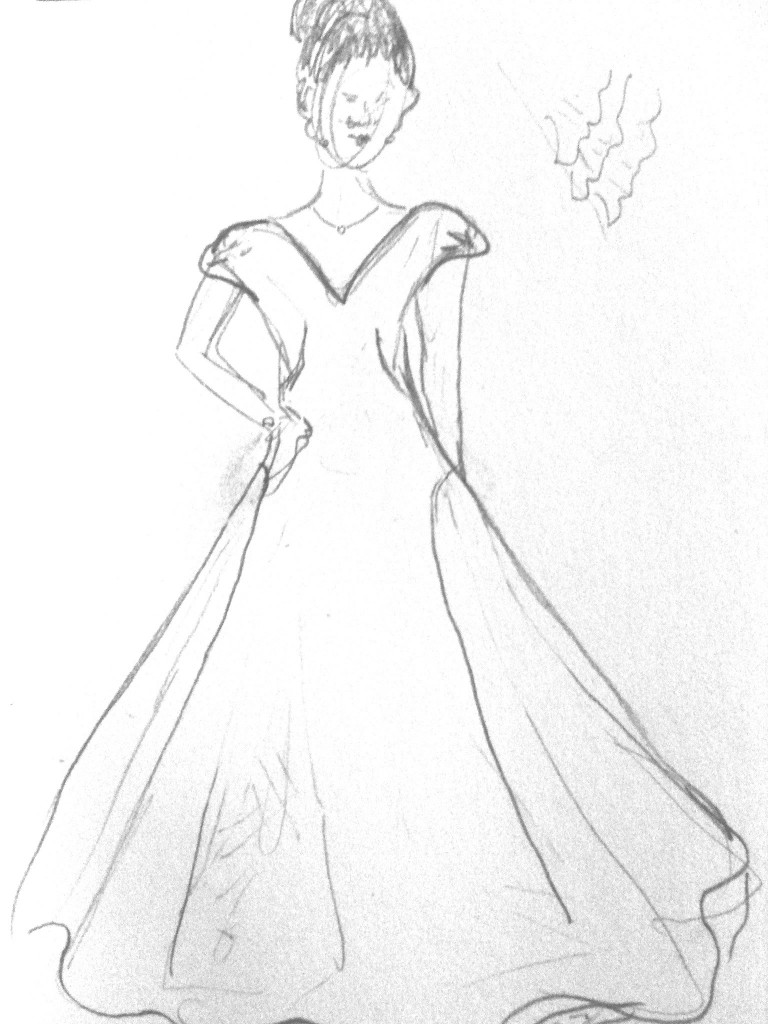 June 27, 2011
I don't remember why my parents had stopped by the apartment but they were there that day, with a yard of silk and a bag of different laces in tow. My mom started "draping." I was both excited and nervous.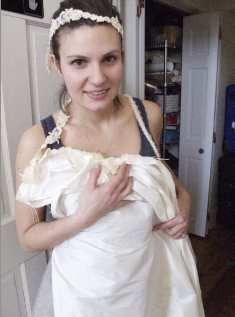 May 18, 2011
These are my sketches from one of the earlier discussions with my mom about my wedding dress.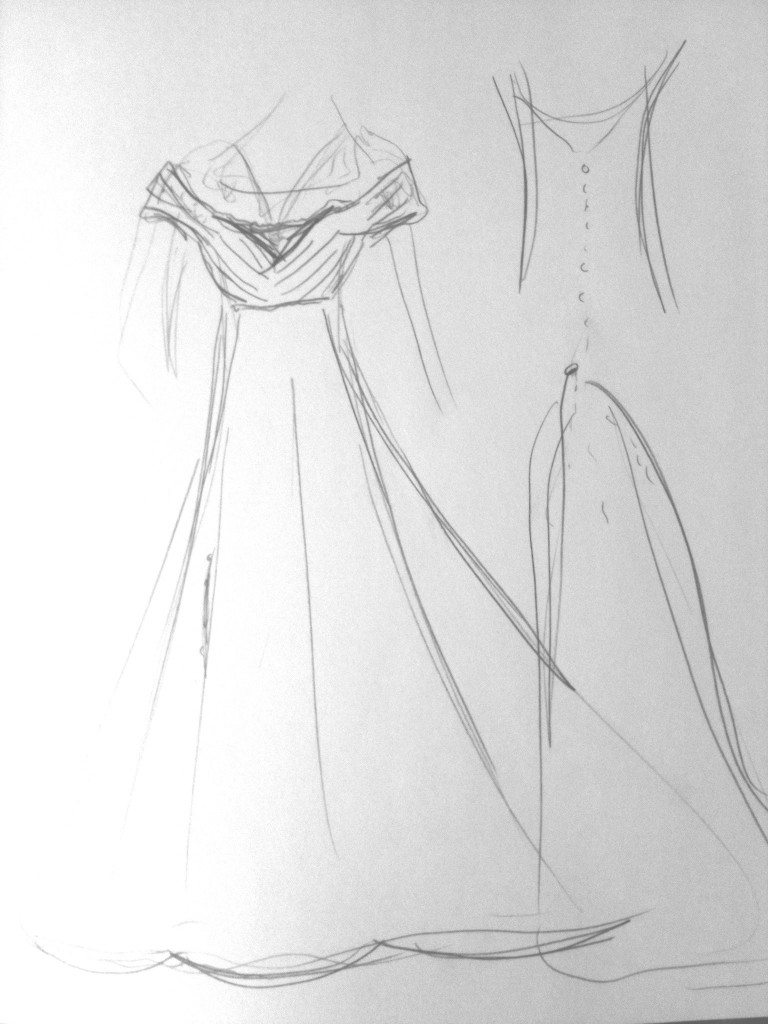 The first conversation went something like this:
Me: "Hey, Mom- Do you remember when I was a little girl and you said you'd make my wedding dress someday?
Mom: "Yea…"
Me: "Can you still do that?"
Mom: "Oh. Uh, you still remember that?" (LONG PAUSE) "Are you sure you really want me to do that?"
Me: "YES!!!!!! Definitely."
Related posts: