On Saturday afternoon I called my mom to see if her face was okay. It is.
Then we started talking about the wedding, which started to become a little stressful, so I told her that I'd devote a significant portion of the next morning entirely to the wedding (which I did) and then headed off to my coworker's Memorial Day BBQ.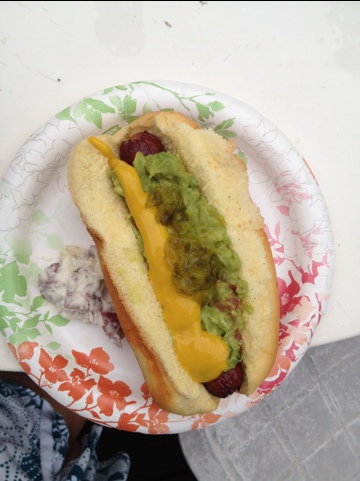 It was fun. The guac & hot dog combo was the best idea ever (thanks Christena!) Back to the spreadsheets.
With my mom on the line, I put together a comprehensive list of all of the flowers needed, estimated the quantity and priced them out. (I imagine this is what a florist would be doing if we'd had one.)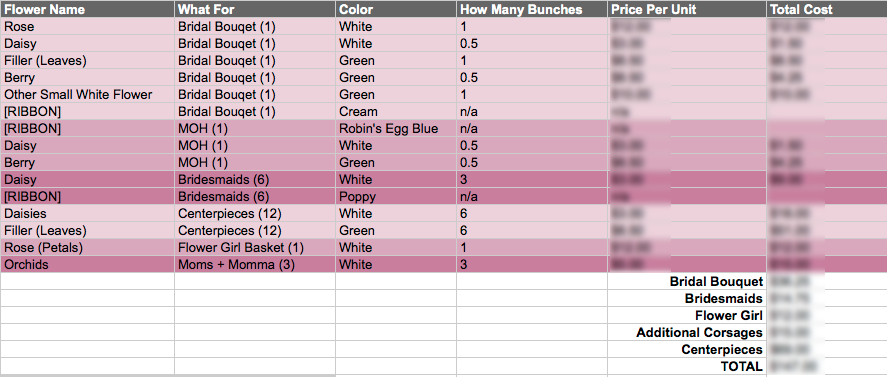 We moved right into cocktail hour and put together the three types of hors d'oeuvres and what was required for each.
After that, we updated the spreadsheet for reception rentals and the non-rental items that need to be purchased (basically whenever it made more sense to buy instead of renting) and listed out every single item, the material, quantity and color (when applicable.)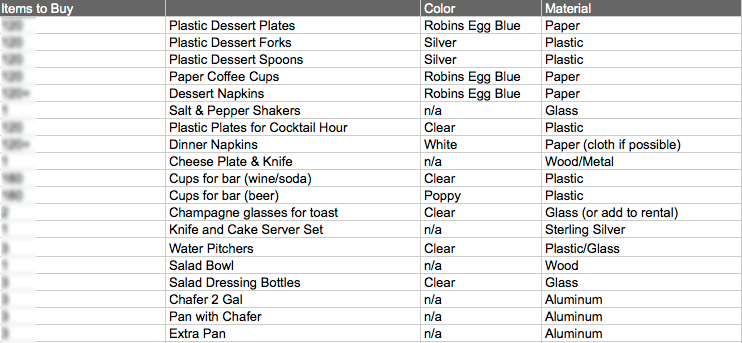 Last but certainly not least, I put together a shot list for the family portraits – immediate family specifically – section of our photo shoot (as requested by our photographer.)

I knew I was forgetting something. There was the wedding sleepover schedule that I sent to Gavin's parents in order to help us all to figure out who is staying here and when so that we make sure there are never eight people sleeping on the floor at once.

I think that's all of the spreadsheets. I'm really excited to get into seating charts and all of that but I have to wait on a few more RSVPs to come in. (I sent out our invitations really late.)
Related posts: