Monday was a pretty awesome day, in terms of productivity. We could have stuffed our faces at another BBQ or relaxed in the park and caught some sun (which I would've loved to do, BTW.) Instead, Gavin and I whipped our apartment back into shape. But first, we juiced.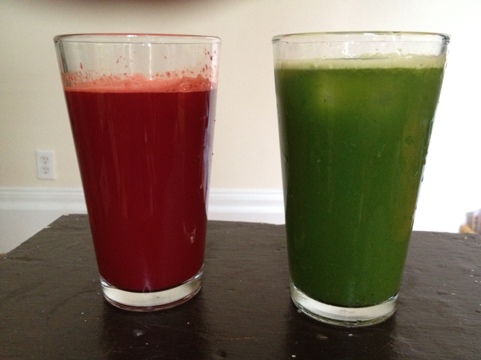 The order of business began with our bedroom closet. While my coworkers joke that this is probably the most organized location on earth, I must admit I've given other areas of the apartment much more thought and consideration than this one.
I'm a firm believer in the method of clearing everything out and starting with a blank slate when it comes to household organization. So that's what I did.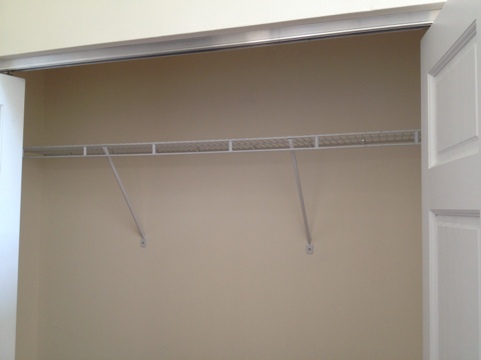 Then I made three piles: keep, donate, toss, and worked my way through the mountain of clothes- both mine and Gavin's.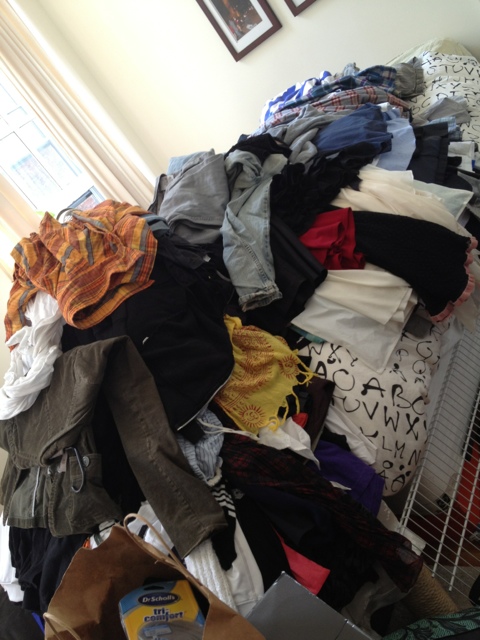 The end result was a very functional approach to closet storage (sans shelves.) In the last apartment I had meticulously installed shelves in almost every closet. This time, I went easy on myself and worked with what we had. (Also, it's so hard to put work into each apartment only to rip it all out every time you leave. I really want to have a place where I can install shelving systems and not have to take them down.)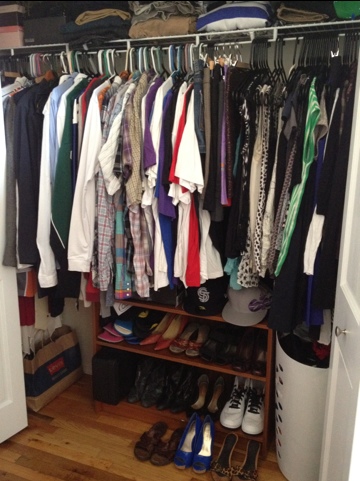 Taaaa-daaa! Here's the approach:
– suits, ties and dresses in the far left (partially hidden by the bedroom door, which means we rarely open this side of the closet anyway)
– dress shoes and evening purses on the shelf directly above that
– Gavin's clothes on the left, mine on the right; both hung and folded above on the shelf
– everyday shoes on the floor shelf (These are mostly women's shoes since Gavin keeps his extensive collection of Nikes lined up by the front door.)
– Gavin's hats are ordered in three rows on the small shelf, which is a little hard to see but it's there
– and lastly, I made a space for the laundry hamper: accessible yet tucked away so that when people visit they won't have to see our dirty clothes (Mostly so that WE don't have to see our dirty clothes.)
On a somewhat related side note, here are some things Gavin has learned so far from living together:
– The concept of transitioning your closet for summer/winter.
– The difference between closet furniture, college furniture and real furniture.
Since it was hot out and doing anything with the stove seemed unnecessary and unwise, I threw together a pasta salad with a bunch of veggies that we had.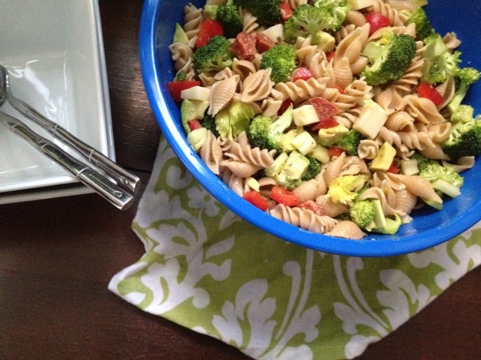 Later on, I caught Milo in the other room, happily basking in the full force of the nearby fan, practicing his Pilates.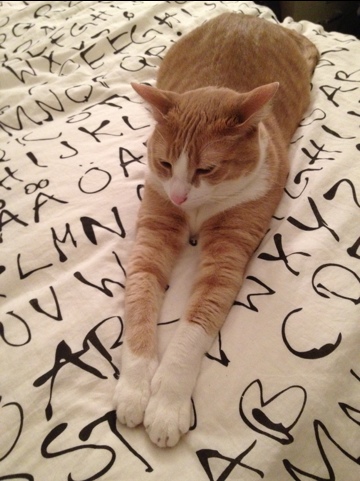 Related posts: