What a great way to kickoff the weekend! Kris and Amy let me spend the night at their new apartment so that I could get an early start (ahem, 5:30am) for the race this morning.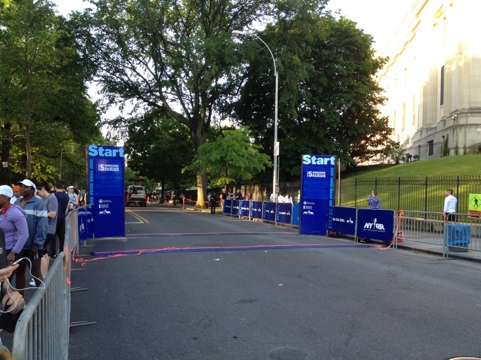 We each went to our respective corrals (Kris was, of course, in the first one with the elite runners. Pfft.)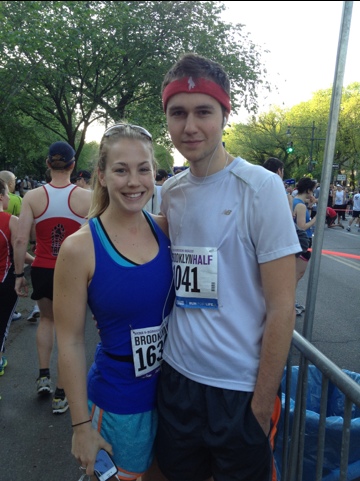 Kris and Amy ran in their Vibrams. I wore my Nikes since I hadn't trained farther than 6 miles in the Vibrams yet. Maybe next race I'll use those.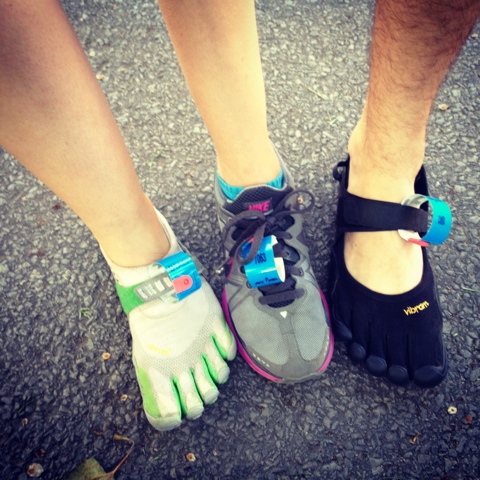 One mile into the race, some dudes took a bathroom break. I was moderately impressed with my in-motion photography skills. Running while shooting- usually it's Gavin who does that.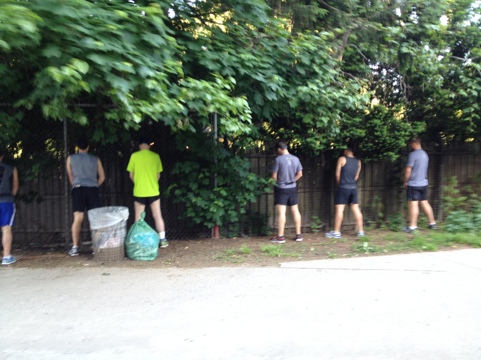 Fast forward 13.1 miles… and I got me some BLING!!!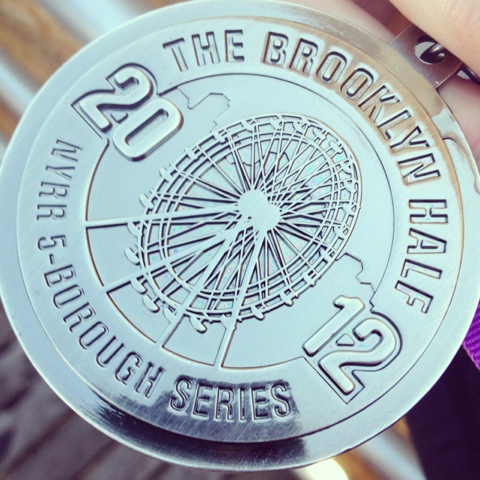 Super psyched to hang this on the medal-holder that Amy got me last Christmas. (The one on the right is Gavin's from the 2011 NYC Half.)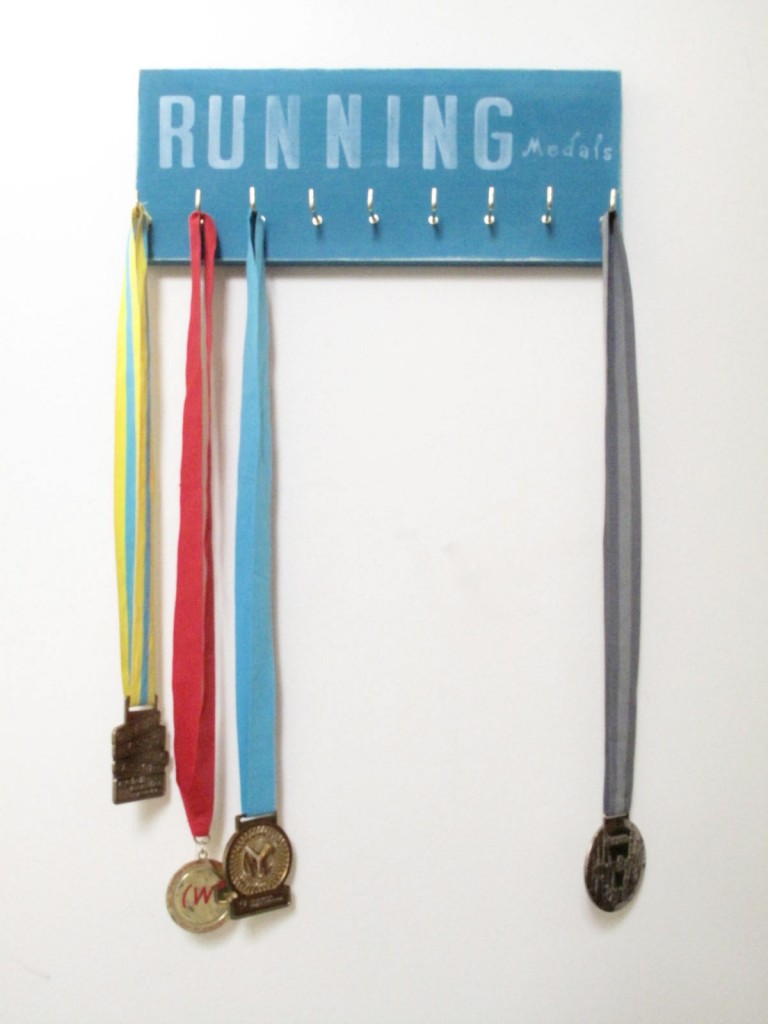 The best part, besides the fact that Gavin and my parents were waiting at the finish line with Gatorade, was that we ended the last portion of the race on the boardwalk at Coney Island!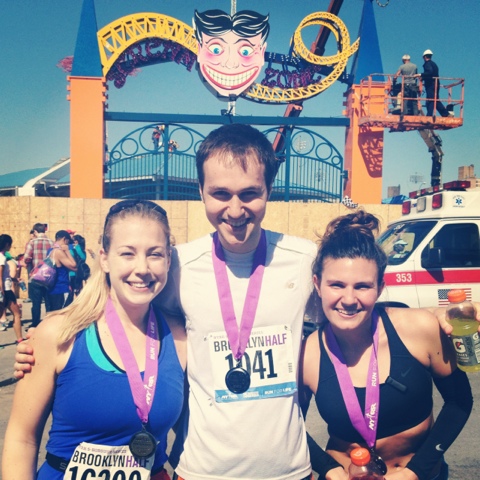 We skipped the cyclone and got some free chocolate milk from the Nestle Quik rabbit who apparently followed Amy, Kris and my parents from their escapades last week (see below photo I stole from Amy's blog.)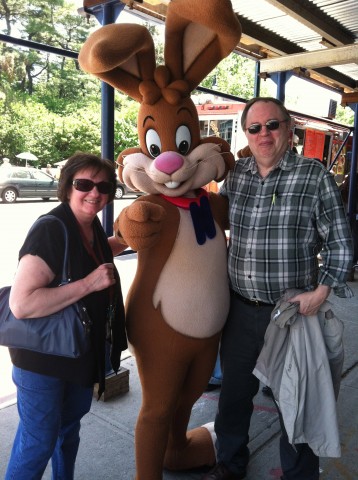 Then we headed back to Kris & Amy's apartment for a shower relay race before walking out to grab bagels and check out the nearby farmer's market. Jim and Katie came down for the farmer's market, too. I got massive quantities of spinach for juicing, a few sweet potatoes and a one small wheat grass plant.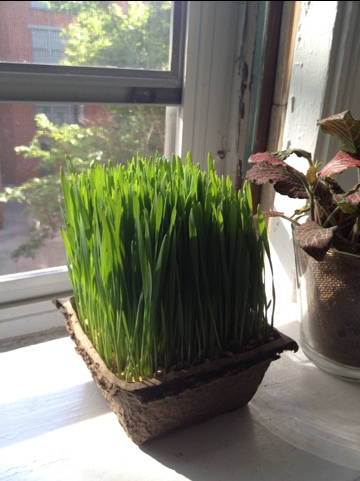 Oh, and my mom FINALLY joined me on DrawFree (my new favorite game on the iPhone.) Hooray!! Only took like 4 weeks.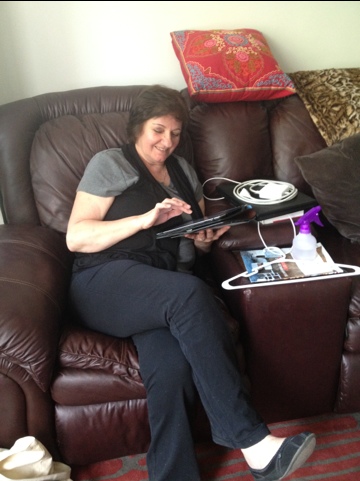 Gavin and I had to leave around 1:30pm so that he could watch Chelsea in the Champion's League Final. He loves Chelsea. I'm planning to rest my legs and not do anything for the rest of the day.
Related posts: