One of my favorite things about days off from work is that I get to spend time with Gavin during his ordinary work day. It's super fun. Today, he had a photo shoot. But first, a very important box showed up at the door –
It contained sixty-eight rolls of film! Gavin was really happy.
Once I got back to the apartment with the flowers, I immediately got to work on constructing the bouquet.
Milo was really excited about all of the flower-wrapping paper. (That's him below making the expression he does when Gavin makes a loud seagull noise to get Milo to look at the camera.)
Tah-dah!! (I made some minor substitutions based on availability: yellow daisies for all white, mini roses for regular roses and some white flower I don't know the name of for another white flower I don't know the name of.)
I tried it with green berries…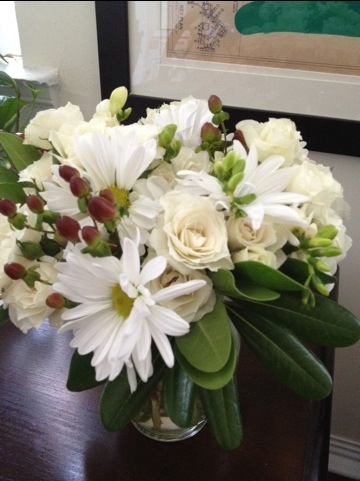 …and red. (I think I like the green ones better.)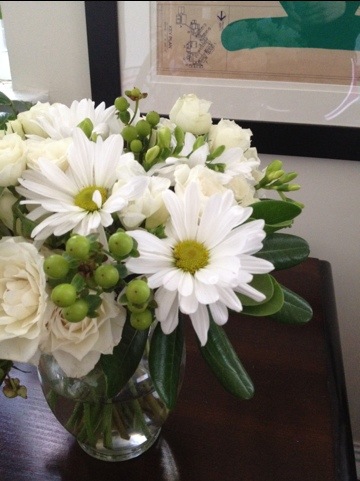 This bouquet is based on the one I really liked several months ago.
And last but not least, since I needed some daisies for the bouquet, I used the extras for a couple of little table centerpiece arrangements. I threw in the berries and leaves for good measure.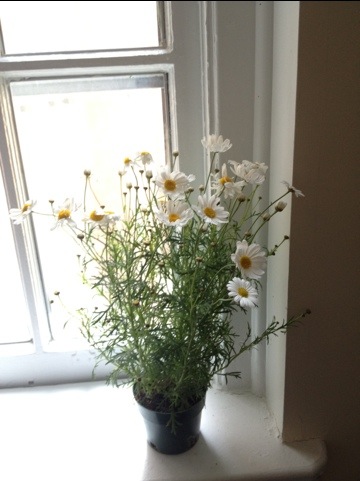 While I 'm still quite enamored with the idea of planted centerpiece flowers versus cut, I think we would need double the amount for a fuller-looking setup.
Related posts: