Since Mom had just recently put together Momma's big party last month, I offered to host the February Birthdays party this month. It was my first real foray into a dinner party for more than six people (truth be told- for the one with four people, Gavin cooked; and the one with six people: we ordered Chinese.) This was also a glimpse into what the wedding might be like, minus a large chunk of people and the fact that I will be off cooking duty that day.
We had a meal of chicken piccatta, meatball in marinara sauce (thank you Trader Joe's), sauteed string beans with buttered bread crumbs and the huge plate of ziti that mom brought along. Let's not forget the enormous spread of wine and desserts, contributed by our guests.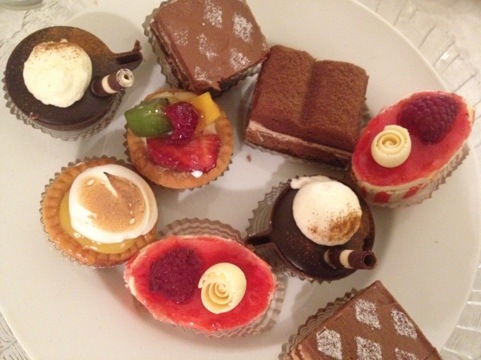 Joining in the festivities was Mom & Dad, Momma, Jim & Katie, Kris & Amy, Aunt Joan & Uncle Tom, Mary Jane & Don, Caitlin, Mollie and, of course, Gavin. It was so nice to have everyone over (and to finally have an apartment that fits more than 10 people in one room.) I kind of sequestered myself in the kitchen in the beginning but, after the food was done, I was able to kick back and enjoy the party. I took zero photos because I was so caught up in conversations, as was everyone. Needless to say, a good time was had by all.
After most people left, my mom got to work at putting together some table arrangements. There were some very elaborate table settings to look at. (We used some of the plates I've been collecting for context.) Everyone had an opinion, of course, but the one Gavin and I liked the best was the most simple: vintage-inspired milk containers from JoAnn's (or Michael's?)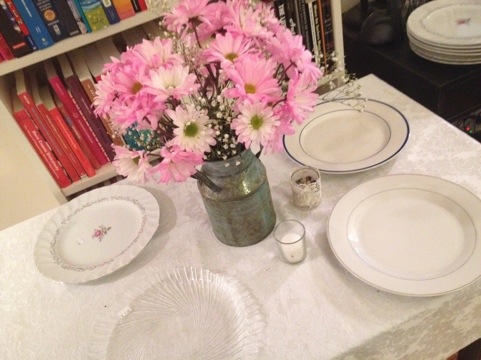 Huge thanks to Aunt Joan for (unknowingly) providing the flowers we used for this table arrangement exercise. They are actually the same type of flowers (daisies!) I was thinking of having at the reception (and/or bouquets.) Voila!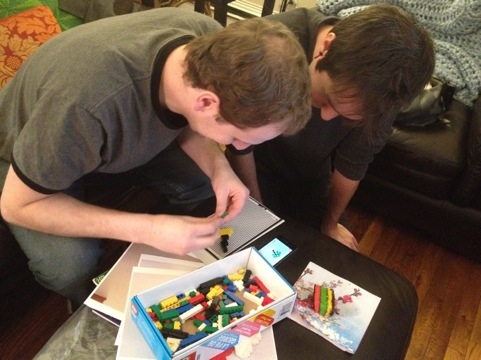 Some more "after hours" fun included Jim and Kris playing legos with a new iPhone game they had discovered.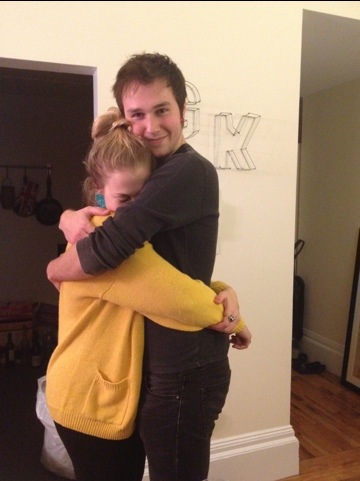 And Kris and Amy practiced some of the important lessons we taught them from Pre-Cana class.
Related posts: