One theme that has emerged repeatedly throughout the wedding books and websites – Blumen! (or flowers, for the non-German-speaking population.)
I've quickly realized that the discussion of certain wedding details is clearly not my forte. Take flowers, for example. When asked what my bridal bouquet will include, my answer is usually – drumroll please – white flowers and some green leaves (you know, to match the ivory dress.) I'm so boring sometimes I could put myself to sleep. No meaning. No symbolism. Just some plain white flowers. Zzzzzzz.
So in order to remedy the situation (and spice up that floral arrangement), I did some perusing on a few wedding sites and Google-searched until I had captured some images to accompany the less-than-impressive description that I currently maintain of my bridal bouquet. Here are the top three: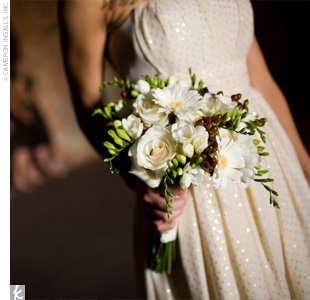 #1 (White roses, berries, green leaves and white daisies)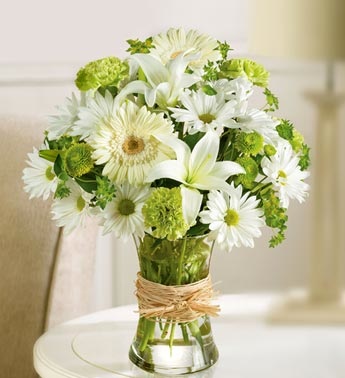 #2 (White daisies, green carnations, lilies)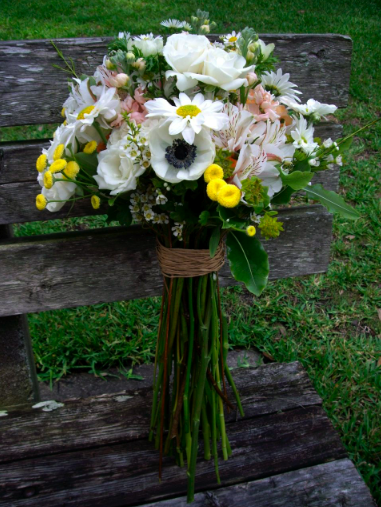 #3 (Wildflowers exploded; tied up neatly with a little raffia bow)
Flower meanings:
– Daisy*: innocence
– White Rose: reverence, humility, truth
– Lily of the Valley: happiness
– Easter Lily: beginnings
– Stephanotis: maritial happiness, not shown (my most recent favorite due to the challenging pronunciation and the fact that the flowers look like they're made of Fimo clay)
*Note that all three bouquets include some type of daisy. I couldn't resist. They've been one of my favorites for as long as I can remember and my super-smart explanation for why I like them –  'they look happy'. I think my brain went on vacation this week.
Related Article (sort of): The Meaning of Kate Middleton's Bouquet
Related posts: