In order to effectively push forward the design of the bridal gown, my parents suggested that we attend the Alexander McQueen Show at the Met this past weekend for some high fashion inspiration. To say I was impressed would be a gross understatement. The show itself was heavily hinged on the aesthetic of an actual runway show. The collections- dispersed throughout several different rooms- were differentiated, not only by the collections themselves but, by the literal transformation of each space.
The "stand-out" elements for me, however, were not so much the presentation (impressive as it was) but the clothing itself. The tailoring (which I now understand refers to the seams and how/where they are placed), was like no other I have seen. I could easily infer the level of perfectionism to which this designer aspired. My mom attempted to capture some detail in her sketchbook but was swiftly reprimanded with a verbal 'cease and desist ' from one of the guards. Oh well. We will just have to memorize with our eyes.
I am absolutely in love with the height of the shoulders on these pieces, a characteristic that Lady Gaga obviously took the liberty of interpreting in her latest evolution- using her skin!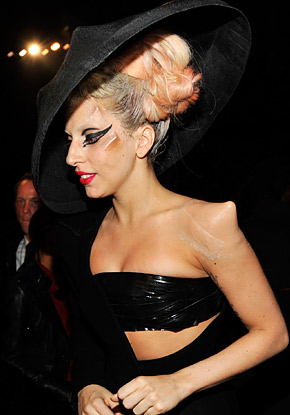 But most importantly, and most relevant to the main focus of this exercise, I think I may have found some inspiration for my wedding dress. The dress (below) is from the 2010-2011 collection, right before McQueen's death (please don't read too much into that one.) I did a quick sketch and my mom revised it. I think we're onto something.
Note: Due to strict photographic restrictions within the exhibit, no images were  captured during the nearly two hours we spent inside this exhibit. Instead, in order to provide a visual accompaniment to the lengthy blog post, images have been directly 'lifted' from the Metropolitan Museum of Art website (with the exception of Lady Gaga, of course.)
Related posts: