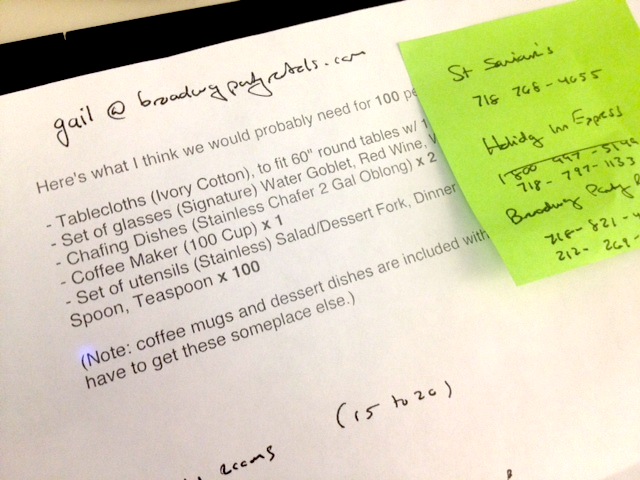 So I got some stuff done yesterday. (See below.)
– Called three different numbers for the Holiday Inn Express Brooklyn to finally get the name of the person I need to speak to who will be back in the office on Tuesday. //Update: Straight to voicemail. Left a message.
– Left a message at Sacred Hearts & St Stephen Church in regards to our wedding. (I'll call St. Saviour's Catholic Church tomorrow per their request.) //Called some dude's home by accident. Wrong number.
– Resubmitted a more descriptive quote request on the Book Your Staff site to include both buffet set-up breakdown and bartender (since the first quote only included bartender.) //Emailing back and forth to further clarify that a bartender is not the person who sets up the buffet. Or is it?
– Got a quote for wedding insurance from WedSafe (required by our venue due to serving of alcohol.) // I'll order this as soon as I know that our catering place doesn't already come with its own insurance, in which case we won't need it according to our contract with The Green Building.–
– Called Broadway Party Rentals again, the preferred vendor of The Green Building, and sent another email (second call, third email) for a quote on the tablecloths, utensils, coffee maker, chaffing dishes and glasses. They also said to call back Tuesday. (The good thing about them is that they open at 7am. I can call before work.) //Finally spoke to a real person on the phone. She gave me her email. I sent her my list. Done.
– Put together the final guest list and emailed the PDF to Gavin. It includes the lists from both of our families and a few very close friends. //Gavin is adding more people to his list (and mine!) Will revise as necessary.
– Made plans with Gavin to swing by Dinosaur BBQ one day this week to double-check on the food items we discussed with them. //Most likely Wednesday or Thursday night, as Tuesday I will likely pop over to David's Bridal after work.
– Put together my selects for the bridal and bridesmaid bouquets, so that I can go to the flower district on Saturday morning and talk to someone about how they do their wholesale flower sales.
– Picked out some dress designs which I'll go check out at David's Bridal after work. (Hoping they look better in person.)
– Emailed bridesmaids the info for hair/makeup so that Meagan can put together a package based on who's interested.
I'm exhausted and a little pissed at myself for not taking full advantage of the week off when I could have called and people would've been more available (Instead, I just slept a lot and cleaned the apartment like a madwoman.) Now I'm back to the usual: trying to catch a few minutes with people on the phone during lunch and on the way to work. Phone tag is my new extracurricular activity.
Related posts: