On Saturday morning, before Gavin and I headed back for some Christmas Eve hors d' oeuvres at his parents' house, we stopped at the Eastview mall.
I don't really know how this happened but before I knew it, Gavin and I were in Men's Warehouse selecting tuxedos for him and his groomsmen. It was pretty straightforward since he had already picked out what he wanted on the website a couple of months ago.
Also the woman helping us has obviously done this type of thing a million times before and was super helpful in the process of elimination. (She was also the mayor of that particular Foursquare location and about two check-ins away from becoming mayor of the entire mall!)
And the verdict is…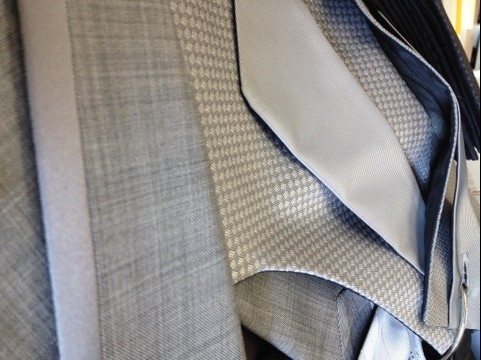 Light-weight grey suit, grey geometric vest and light grey tie. (Patent leather shoes come with it, as well as some weird handkerchiefs that they have some special name for that I've already forgotten.)
They didn't have Gavin's size in this tux but the woman took is measurements and I'm sure he and his groomsmen will look smashing in it.
Now, about those bridesmaids' dresses…
Related posts: