Last night, I went with my boss to a coworker's going away party. While we were out, I told her about the haunted houses that Gavin and I looked at in the Finger Lakes. She is 100% convinced that Gavin and I should get married at the one with the ghost couple because "then the ghosts will possess [us] during the ceremony." She also thinks it would be very entertaining for the guests to have a wedding "in the dark" and attempt to capture the ghosts in the wedding photos. (I am not making this up; although I kind of wish I was.)
On the subject of wedding venues, Gavin and I will be touring the wedding circuit in Westchester tomorrow afternoon. Then NYC the following week. After that, we should be able to make an informed decision as to where this shindig will take place. Hooray!
… unless, of course, we end up on the reality TV show. Then that's a whole other story.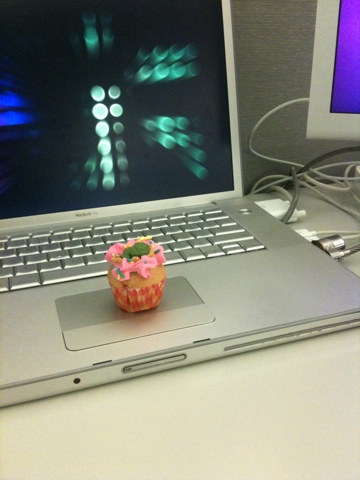 Highlight of the (short) week: a miniature cupcake arrived on my desk! I ate the whole thing.
Related posts: